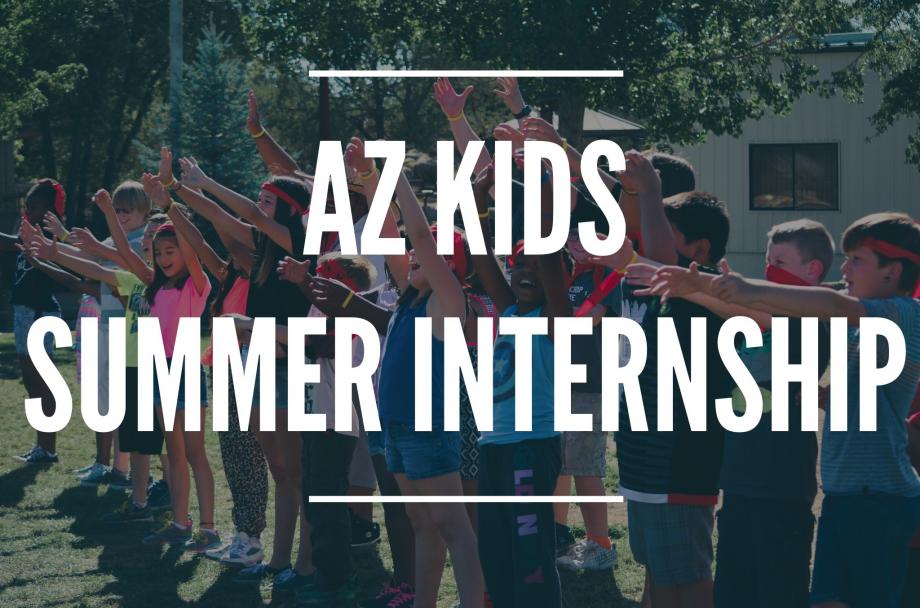 Make the most of your summer through the Arizona Kids Ministries Summer Internship. As an AZ KIDS Summer Intern, you will have the opportunity to impact hundreds of kids as they encounter God at summer camps. If you want to grow in your leadership and maximize the summer months, we hope you consider investing in our three-week Summer Internship this year.
DESCRIPTION:
As a Summer Intern, you will have the unique opportunity to be a part of Arizona Kids Ministry leadership team who make Kids Camps possible. You will have the privilege of building relationships and connecting with all of the children's pastors, speakers, and campers from churches all over Arizona during the three weeks of kids camp at Granite Hills Retreat and Conference Center. You will be challenged as you grow in your spiritual leadership, communication skills, physical strength, and mental endurance.
The AZ KIDS Summer Internship is designed for young adults, ages 15-25, and we require a three-week commitment. Interns must submit a pastoral, parent/guardian, and non-related adult reference (included in the application).

WHAT TO EXPECT:
The Summer Internship begins with leader orientation on Saturday, June 23 as we prepare for our camp season. We will be having 3 weeks of Kids Camp this year, beginning on June 25 and ending July 20. You will be responsible for transportation to and from the campground. Interns under the age of 18 CANNOT stay on the campground Friday - Saturday night, and are responsible to coordinate their own transportation each week. For those ages 18+, you are welcome to stay on the campground over the weekend. Food will not be provided when camp is not in session.
LOCATION:
Granite Hills Retreat & Conference Center
2025 Iron Springs Road, Prescott, AZ 86305
DATES:
Kids Camp Session (3 weeks)

- CAMP PREP: Saturday, June 23 - Sunday, June 24
- WEEK 1: June 25 - 30
- WEEK 2: July 9 - 13
- WEEK 3: July 16 - 20

Leadership Orientation starts each week on Sunday at 6 pm
Camp concludes each week around 1 pm on Friday
Interns have each weekend free
FOOD/LODGING:
Summer Interns will be provided three meals a day during the camp week. Lodging is provided on the campground in gender-specific cabins.
LEADERSHIP OPPORTUNITIES:
- Behind the scenes camp prep-team, covering the campgrounds in prayer.
- Daily leadership development & devotional meetings.
- Be the first to welcome teams to camp & take part in creating the culture.
- Engage in every service with hundreds of kids encountering God.
- Serve in various leadership areas. (Rec, Pop Stand, the Store, etc.)
*Specific duties will be given each week with a schedule of responsibilities.
WHAT TO BRING:
- Bible, notebook, & pen - Modest one-piece swimwear - Water bottle
- Bedding (pillow, sheets, blanket, or sleeping bag) - Plastic bag for dirty clothes
- Bath towel, washcloth, & towel for water games - Shower shoes - Medicines
- Toiletries: soap, shampoo, deodorant, toothbrush/paste, etc. - Camp Guidebook
- Outdoor athletic wear for team competitions - Warm coat for cool evenings
- Old clothes & shoes for muddy games - Sunscreen/hat/umbrella - Camera
- Modest, appropriate clothes for night services - Water resistant watch - Flashlight

COST:
This is a FREE internship, which includes three meals a day, lodging, leadership book, camp guidebook, notebook, all the fun activities, and a t-shirt. All fees must be received prior to arrival, due date is June 11th.

Application fee: $25.00 sent in with the complete application. (non-refundable)

APPLICATION INSTRUCTIONS:
1. Attached application: About Me, Signed Honor Code (include medical information)
2. Pastor, Parent, Adult (non-relative) Recommendations (attached)
3. 1 Page (12-14 point font) Typed Personal Essay: "Why do you desire to be a Summer Intern?"
4. Self Portrait (Selfie)
*All documents must be turned in before the applicant is considered.